Hey everyone, I wanted to take some time to explain how we like to bet on our golf plays. We noted in our write-up, "We recommend tiering these players based on the level of risk you feel comfortable taking on. We like to pepper in top 20, 30, or 40 finishes depending on odds, especially the players with the longer odds." But what does that really mean? Well, first, you need to find the bet. We usually see them set up like the images shown below: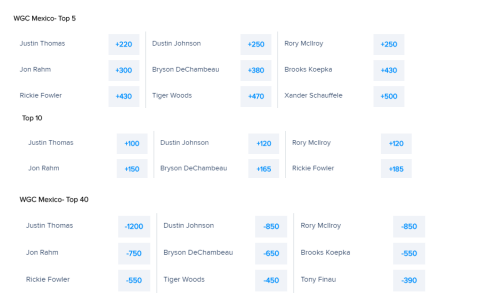 Now, once you find the bet, how should you make your play? Well, it all comes down to your risk tolerance. Does your book allow you to parlay these plays is a good 1st question to ask. Next, like any bet, you will need to identify your risk/reward. You may think Justin Thomas has a great chance to win, you can go all out and put your money on him to win at +1600 or you can give yourself some wiggle from, because in life, "shit happens," especially in sports… For our Justin Thomas bet, we will most likely end up in the top 10 areas; however, you could drop the bet to the top 20 and then possibly parlay it with Marc Leishman breaking the top 40, which is likely to happen. If we are only making one straight bet, we tend to take on more risk and keep it within the -150 – +200 range, but if we are parlaying, we will drop down to some -200 / -300s.

No one becomes a golf expert overnight. Like any other sport, it takes time, effort, hard work, and experience to turn from rookie to sharp. The first step to success is knowing the field, studying the players, and familiarizing yourself with the courses. Different players have different strengths, whether it may be accuracy off the tee, a stellar iron game or an ace putter. Try to tailor the golfer to the course and look for "course form." For instance, golfers who drive the ball further and straighter than their competitors are a smart bet on a long course with big fairways. Shorter courses are more suitable for golfers with strong iron games. It's often said that golfers "drive for show and put for dough." Good putters hold a distinct advantage across almost all courses. Bettors should also consider tee times, the weather, and even injuries when betting specific golfers. Also, if a specific golfer has performed well at a course in the past, he might be a good bet to repeat in the future. Lastly, lean on golfers who are playing well recently and have a lot of top 20 finishes.